MoCAD
Drive-In Radio Theater
Join MoCAD for another installment of hyper-local electromagnetism at this season's Drive-In Radio Theater in the MOCAD parking lot. This evening of live performances is hosted and curated by Jon Brumit, MOCAD's Curator of Public Engagement, and features a disparate program inspired by and diverging from the Post-Industrial Complex and Vertical Urban Factory exhibitions on view in the museum. Starting every 20 minutes, the performances are lit by your headlights, with audio transmitted to your car radio. Attendees can stay for the whole evening or catch a few acts before heading out.
Wednesday, July 11, 8-10pm. 
Cranbrook Art Museum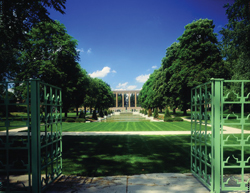 The Cranbrook Vision: Architecture, Landscape and Sculpture
Join Cranbrook for a walking tour that highlights some of the wonders of the Cranbrook campus. Springing from the visionary ideas of George and Ellen Booth and their collaborations with Arts & Crafts designers, the early decades of the twentieth century laid the groundwork for our stunning National Heritage Landmark site.  Following these formative years, the Cranbrook campus became an evolving canvas for the architects, artists, and gardeners who worked to shape the Booths' desire to create spaces of meaning, distinction, and beauty. 
Call 248-645-3319 to make your reservation.
Every Sunday through October 28, 1-2:30pm.
Saarinen House Tour
A rare integration of art, architecture, design and nature-Saarinen house is a total work of art. Designed in the late 1920s, the house served as the home and studio of Eliel Saarinen (Cranbrook's first resident architect and the Academy's first president and head of the Architecture Department) and Loja Saarinen (the Academy's first head of the Weaving Department) from 1930 through 1950.
Docent-guided Public Tours of Saarinen House depart from the front desk of Cranbrook Art Museum, where tickets also may be purchased on tour days. The tours are about 90 minutes long.
Public Tours through October 28
2pm: Thursdays through Saturdays
1pm & 3pm on Sundays
Ephiphany Studios
First Thursdays in the Studio        Watch master glassblower April Wagner perform jaw-dropping hot glass-blowing demonstrations in her beautiful studio surrounded by gorgeous work.
Open studio Thursday, July 5, 4-9pm.